Annick Goutal Eau de Camille
Wet: wet grass, dandelion, honeysuckle, chamomile
Dry: honeysuckle, chamomile, dandelion, grass with roots
This one is very sunny. I love sharp green notes in florals and this one doesn't disappoint. I feel like I'm walking through a botanical garden, all crispness and tartness to cut through the unendingly beautiful sweetness. The top notes are almost too astringent at first, but quickly relax into a background nose-opener to the lightly sweet flowers in the foreground. Like most Goutals, Eau de Camille makes me wish my skin naturally exuded this scent, but in fact, this one probably has the largest sillage out of all of the Goutals I've tried so far in sample form, about a foot away, with little wisps of it escaping up to 2 feet (alas, my arm isn't very long.) It's a pretty, gentle scent that does well in an office environment, and may be able to delight a few children who really like flowers.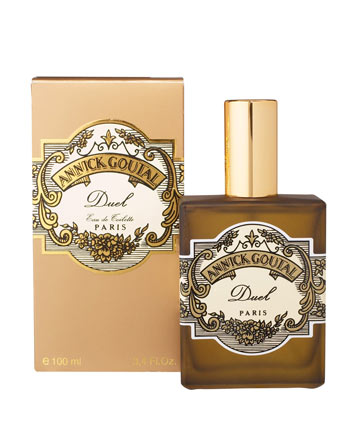 Annick Goutal Duel
Wet: sweet peppers, citrus rind, flowers, northern red oak
Dry: oak, flowers, a tiny bit of mulch, leather, musk
Duel was marketed as a men's fragrance, but it's quite sweet and floral, and the leather does little, in my opinion, to cut through this. In fact, this is probably the only fragrance I've smelled that boasts leather while leaving it shy in the background. In Duel, even the woods add their own brand of powdered sugar, but it's not really sickly thankfully, and it does work as something light and airy. I may opt to wear it from time to time, but that's not surprising because I love Annick Goutals. Mr. Chokkattu agrees that it's very sweet and floral, comparing it to shampoo, and is not interested in taking my sample for himself. Nonetheless, it's actually very lovely and interesting, with a palpable fantasy forest feel, complete with a saddle, and perhaps the person who values this type of vision is the one who would carry it the best.